We receive many school groups every year from all over Europe and the US and the same institutions renew their confidence with our services year after year. For short stays (from 4 nights) or longer stays (in the case of trainees, for example), for small student groups or bigger (traditionally 45-50 student groups), Your Family in Madrid organizes school trip in Madrid, in a quality and centrical accommodation.
We organize "costume made" school trip in Madrid , and we also offer our Madrid Essential Program for a complete linguistic journey.
Your "costume made" school trip in Madrid
Students are divided into families according to their preferences, always subject to availability. Families are all close to each other as we always ensure good communication so students can go on foot or take public transport and can meet easily with accompanying teachers everyday.
At the arrival of the group, we welcome you personnaly with the host families at a meeting point that we determine together prior to arrival, depending on your means of arrival (plane, train or bus).
If you are travelling by plane with a big group, we can organize your transfer from the airport to the meeting point by bus.
The teachers can choose their accommodation option: homestay (single or double room) or hotel, but in this case (hotel, Airbnb…) the teachers will have to book their accommodation on their own.
For any question, we are available throughout the duration of your school trip in Madrid via our emergency phone.
If you want to enhance your students´ experience through activities, language courses, tours and excursions, just let us know: Flamenco shows, visits to the Bernabeu Stadium, dance classes, Chocolate con Churros tasting, Museum and monument visits, tours outside Madrid … anything is possible.
School trip in Madrid Rates:
Accommodation

:
Single room, half board: € 220 per week (32 € per night for shorter duration)
Full board: € 260 per week (38 € per night for shorter duration)
Double / triple, half board: € 190 per week per person (€ 28 per night for shorter duration)
Full board: € 230 per week per person (€ 33 per night for shorter duration)
Daily pick up by the host families to meeting point is not included.
From 40 students, a supplement of € 5 per person per week is applied.
Airport transfer:
Upon request, the price depends on the number of students Schedule: 8AM to 10PM)
Activities and visits:
On demand, prices depend on the number and the age of participants.
Discover our catalog: catalog of activities for groups 2023 2024
Spanish Courses: Groups (+/-10 students)
Intensive courses : 20 hours per week,
Semi-Intensive Course: 10 hours per week,
*Rate for a 30 students group basis. We can modify the number of hours according your needs.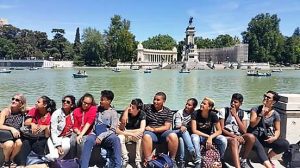 School trip in Madrid Essential Program
You want to organize a 5 days linguistic school trip in Madrid, at the best price, includind all the "Must see" places, and you do not have the time to organize the program point by point? Your group will count between 30 and 45 participants? We offer you our Madrid Essential Program (5 days/4nights).
Temporary not available
This program includes:
– Airport pick up and drop off by bus (from 8AM to 10PM)
–Transport tickets for all activities during the whole stay
– Accommodation in host families (half or full board), in double or triple rooms
–6 hours of Spanish course, in small groups, with certified teachers and in an accredited school.
-Tours and visits:
– a guided tour of the historical center of Madrid with an English-speaking guide,
–Royal Palace,
–Cathedral of Almudena,
– Prado or Reina Sofia Museums,
– Buen Retiro Park
–  Santiago Bernabeu stadium.
-The typical Chocolate con Churros.
Madrid Essential Program rates, all included:
– 210 € per participant on half board basis (breakfast + family dinner)
– 235 € per participant with full board (breakfast, picnic at lunch and dinner with the family)