The Spanish classes we offer in Madrid are arranged by our 3 partners: Luis Vives School and Spaneasy.
Luis Vives School is a study center for Spaniards that has developed in parallel as a Spanish school for foreigners and is today a center accredited by the Cervantes Institute and all teachers are certified.
The center is located in the center of Madrid, a stone's throw from Puerta del Sol, and there is another school near Moncloa as well. With Luis Vives School, you will not just take language courses, but immerse yourself in Spanish culture and customs.
• Spanish classes in Madrid:
– Courses for young people: Spanish classes in Madrid for young people aged 14 to 17, with very dynamic activities that promote experiential learning. We do a lot of activities outside of the classroom. Some take place during visits to museums or even visits to shops where you can practice what you have already seen in class, etc. And cultural activities of course 🙂
– Preparation course for university entrance exams: for young foreign students wishing to pursue their higher studies in Spain.
– Group and private lessons
– Spanish classes in Madrid by level: • Semi-Intensive: 10 lessons per week • Intensive: 20 lessons per week – Maximum 8 students per group. – Afternoon activities to enjoy Madrid.
– DELE preparation course, etc …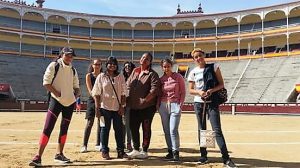 Spaneasy School, accredited center by the Cervantes Institute, is located in the very center of Madrid, Calle Alcalá, 4, close to Puerta del Sol. It is therefore the ideal location for both individuals and groups, who will easily travel from their family accommodation to school by public transport and even on foot. The school, clear, well arranged, comfortable, is perfect to receive small groups of levels, but also school trip groups, divided into 4 rooms.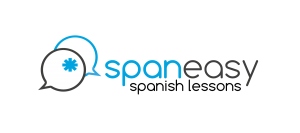 Spaneasy teachers are all certified, ELE graduates, and native speakers. Dynamic and very professional, they will offer adapted, innovative, intensive or semi-intensive courses, according to your availability and your needs.
For individuals preferring private lessons, Spaneasy also offers courses in One to One, with a minimum of 3 hours per week. This is the ideal option if you want to enjoy your stay for a refresher course in Spanish 🙂
Taking Spanish classes while you stay in a host family in Madrid, will be the best way to improve your Spanish ever. Speaking, living, eating in Spanish all day long, there is no better option if what you want is optimize your stay in Madrid. Other accommodation as shared flats are not so effective, as you will be leaving with other foreign students, and consequently, you will speak really little Spanish in your daily life. If you choose an apartment, or an hotel, it will be the same: to improve your skills in a new language, you have to live it 24 hours a day! Choose homestay + Spanish classes, and you will go back home totally fluent in Spanish.