We return today to the COVID situation in Madrid, two years after the publication of this post: the WHO having decreed the end of the pandemic at the beginning of this month (what a good news!!!), we no longer ask our customers to fill in the Acceptance Model that we had put in place over the past two years.
Obviously  the virus continues to circulate even if its effects are less marked overall. Vaccination is of course still recommended to deal with any resurgence of the virus; all our families are vaccinated and prefer that their hosts are also vaccinated for more safety, for everyone.
Wearing a mask is still compulsory in hospitals and pharmacies (it's always better to have one at the bottom of your handbag ;=)
In conclusion, we wish you an excellent stay in Madrid, and we are waiting for you with open arms (and without a mask!!!!).
See you soon!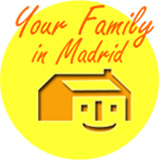 A little publication today to make a point on the COVID situation in Madrid, for all our customers who are contacting us for their future stay with a host family.
We are finally seeing the end of the tunnel😊 Even if the numbers of new contagions remain high in Madrid (one of the communities with the highest population density in Spain), the pace of vaccinations is accelerating, and the virus – and its most harmful consequences – finally backs off.
The State of Emergency should come to an end on May 9th, and therefore once again allow the free movement of Spaniards throughout Spain, and we will keep them informed. The curfew should be lifted in Madrid (currently it is from 11 p.m. to 6 a.m.) but we are awaiting confirmation.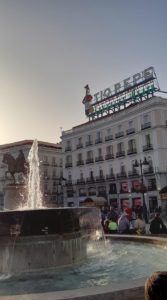 Wearing a mask remains obligatory everywhere for the moment, but we hope that soon, this will only be the case for closed spaces (shopping centers, offices, transports, schools, etc.). Everything is open (bars, restaurants, leisure centers, culture,…) but always with a limited capacity: it is better to always book before going somewhere.
The PCR is still in relevant: all travelers must enter and leave Spain with a PCR done less than 72 hours before the trip.
We are awaiting the next decisions from the Ministry of Health to keep you informed, and update our Covid Prevention Protocol. And we hope that it will be lightened for the greatest joy of all😊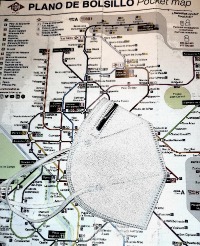 Pandemic toll: what has changed.
Our host families have obviously suffered a lot throughout the pandemic. Even if most of them have a separate professional activity, these last 13 months have been very hard. The good news is that every now and then we get a message saying: "It's done, I'm vaccinated !!" And they are more than ever happy to welcome the next travelers and students, vaccinated or not (or almost!).
New families have joined our company, both in the center of Madrid and near the main public and private universities in the area. And the great family of Your Family in Madrid is growing, despite these difficult times, thanks to you, dear customers, as well as to our loyal collaborators😊
We will continue to organize video conferences so that our Long Stay students can meet and choose their host family remotely, without having to travel to Spain. We have also been doing it this year for young people who choose our Junior Total Immersion stays: the parents of these young minors are therefore much more reassured and confident about the success of their child's stay.
In general, we have increased direct communication with our customers, by phone or video conference, in order to always better inform them about the COVID situation in Madrid, to advise them on the choice of the stay option that best applies to their profile and their expectations, and above all to reassure them in these times of uncertainty.
And of course, we continue to keep you informed of all the news in Madrid on our Facebook and Instagram page.
We are one step away from touching the new normality, and we will do it together, as we have been doing since 2016.
See you soon in Madrid😊