Many visitors come to Madrid because of football. Many football fans come to Madrid for derbys, or even only to visit the stadiums and attend trainings of the most successful teams.
The theme of today's post will be a presentation of Madrid's football clubs.
Real Madrid and Atletico Madrid are the most famous teams, but there are other, less  known internationally, who are also part of the championship "La Liga", and that, if you are a football fan, you must know absolutely: Rayo Vallecano CF and Getafe CF.
Rayo Vallecano FC is a modest team located in a working class neighborhood of Madrid: Vallecas. Their stadium is the "Teresa Ribero." This club, because of its small budget, and its family character, is much loved by fans across the country.
Getafe CF team "Azulon" (the name of the color of their shirt), is a club from another town from the periphery, Getafe, and his stadium is the "Alfonso Pérez", name of player from Real Madrid and FC Barcelona, ​​native from this city.
Next we come to the best teams in Madrid.
Real Madrid CF, founded in 1902 is the main team of the capital in terms of titles and number of subscribers fans: 99781 !!! much greater than the number of seats of the Santiago Bernabeu stadium !!! In addition to being the European club holder of the greatest number of official titles, he is also in its basketball section (current champion in Europe). It is the richest club in the world, but its subscribers include all social backgrounds.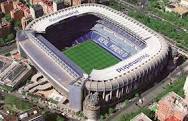 You can visit the Santiago Bernabeu stadium and the club museum and discover the trophies and locker rooms. After a victory, supporters of Real always carry the trophey and gather around  the fountain of Cibeles, the famous statue of the goddess in a chariot drawn by lions, just in front of the Madrid Townhall.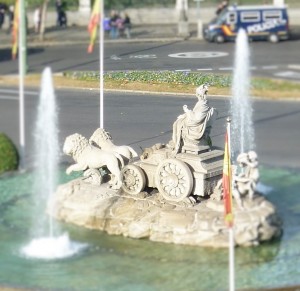 Another famous club is Atletico Madrid, which plays at the Vicente Calderon stadium: it is the second Madrid football club, by the number of subscribers and the number of trophies, although in recent years, thanks to his coach, Cholo Simeone, it is now even above the Real in the standings. This club identifies with the working clase, and he has many fans outside the capital town.  Atlético´s supporters are considered the best in Spain thanks to their tireless spirit and stoicism when conceding defeat. In recent years, Atletico was able to dominate almost all the duels he had with Real Madrid during both the championship league and the Copa del Rey. In the final of the Champions League in 2014, Atletico lost against Real Madrid in extra time. The Real-Atletico matches are always the opportunity to see big matches, and enjoy great football.
We invite you to enjoy this popular sport, which is so well represented in our beautiful city.
I will finish this post with a video of the anthem of Real Madrid, one of my son´s favorite songs!!!