Under our agreements with institutions participating in ERASMUS  program, we have received this month a group of a Professional High School, Lycée Les Sapins, from Coutances in Normandy, supervised by their teacher Nathalie Tavoukdjian.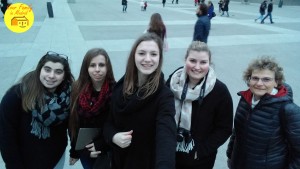 ERASMUS + is the new European program for education and formation, youth and sport, set up in 2014 to 2020.
ERASMUS + has as objective to improve the skills and working opportunities for young people, and modernize education and training. The program will last 7 years and has a budget of 14.7 million euros. This represents a 40% increase over the previous budget, proof of the commitment of the European Community to invest in this framework.

ERASMUS + offers the opportunity to more than four millions europeeans citizens to work, train, acquire work experience and achieve voluntary activities abroad.
ERASMUS + finance transnational associations between educational institutions and organizations, to build bridges between the world of education and work to remedy the lack of qualification faced by the European Community.
The students of the Lycée Les Sapins in A-Level Hygiene, Cleanliness and Sterilization, could make a three-week internship in the maintenance companies SAMSIC on the site of Telefónica (the main Spanish telecommunications company) and ONET on the site of the famous Santiago Bernabeu.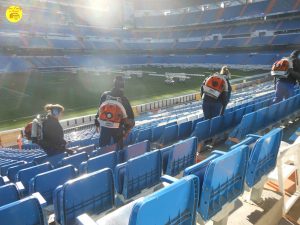 The group was supported from the arrival at the airport and accommodation in host families organized by Your Family in Madrid. The experience was positive for young girls who discovered Madrid for the first time, with very limited Spanish knowledge. Having overcome the apprehension of the journey and the arrival in an unknown city and discovery with a new job, the young students did not want to return to France!!!
This program with the Lycée Les Sapins will continue the next school year with other students of the same course, and will be complemented by a new program that will integrate students-Level Coaching, Health and Human Services.
Your Famly in Madrid collaborates with many schools organizing homestay as well as finding internships for students, in close collaboration with the teachers.
If you want to set up an ERASMUS + program in your school, do not hesitate to contact us, we will be happy to work with you!