The post of the day will be dedicated to the Madrid Subway. It is indeed the first concern of students and travelers, after housing, when they arrive at Madrid. The Metro of Madrid is very convenient (it is very easy to use, with its colorful lines), very clean and quite cheap considering the prices of monthly pass. Single tickets are quite expensive (as expensive than in Paris, for example).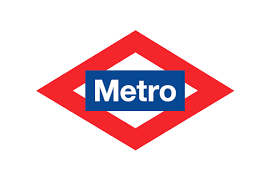 On the web site Https://www.metromadrid.es/es/index.html, you will find all the information about the types of tickets, passes and rates, but I'll give you here the most important information so you can have a good idea of prices and services of Madrid subway.
Since January 2018, it is already impossible to buy paper tickets: they have been replaced by a laminated card, whose cost is € 2.5. This card, the "Multi", can be recharged with any option (single trips or 10 trips bonus, € 12.20), except the monthly payment that is personal and non-transferable. The good thing about this card is that it can be used by several people at the same time (which compensates a little the cost it represents). So, upon arrival at the airport, we advise you to buy it, and load it with 10 trips plus the airport supplement (yes, this supplement is per person). There is also a tourist ticket (from 1 to 7 days, from € 8.4 to € 35.4, personal and non-transferable, although there is no personal data to enter it) and, finally, the monthly bonus (valid for 30 days , regardless of the validity start date). If your stay in Madrid is short (less than a week), the tourist ticket is the best option, since it covers the airport supplement (€ 3) and allows you to use all the subways, buses and commuter trains that also circulate in the center and they are very fast and convenient. On the other hand, the tourist ticket can be bought without an appointment at the airport, as soon as you arrive in Madrid. After a week's stay, I suggest you buy the 30-day pass if you travel alone and if you know that you are going to use public transport every day, or the Multi if you travel as a couple or with friends and you will stay at the Madrid center.
For people under 26 years, this subscription is interesting from the moment the stay will exceed 5 days: only € 20 per month and that gives you the right to use all subways, buses and trains is really interesting. For people over 26 years, the price is much higher: € 54.50, but if you think you will have to use the subway / bus / cercanías every day, it is worth it. The only small problem is that these passes are sold only by appointment, where you should go with your valid identity card / passport and photocopy, and 4 € corresponding to the price of the card. It is very complicated to get an appointment via the website of Metro de Madrid, but we will be happy to take this step for you when you confirm your reservation with our homestay services. If you arrive to Madrid on a Sunday, we will arrange the appointment on the sanme Sunday, or on Monday morning or evening, depending on your schedule. You will just have to make the choice between individual tickets or touristic tickets for the first day or the first two days.
Just one more thing: beware of pickpockets in the Madrid subway: never put your wallet in the small outside pocket of your backpack, nor your mobile phone in your trousers pocket because you can be sure you will be stolen before arriving at your destination.