Many times our clients are the ones who give their opinión about our services and talk about their experience, but today we have decided to give voice to our host families. Surely you will be interested in knowing their motivations, their concept of hospitality, their best esperiences, or in a few words, to know them better 😊
We have done a small survey, and this article is the result of collecting their answers.
Here are our host families!
The first question we asked them (and what families are often asked) is to know why they host foreign students in their homes. Although the economic issue could be an obvious cause, most of our host families emphasize the cultural enrichment factor, especially when the host families have children, since the contact with people from other cultures always opens new perspectives and horizons.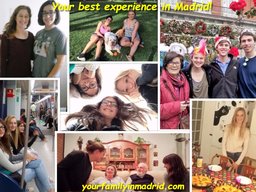 All families think that Madrid is the ideal city for foreign students who wish to make a linguistic and cultural stay: as capital town ("The most tolerant city in Spain" according to GC that welcomes students since 2013), it is clear that it offers all kinds cultural activities and leisure, and very comfortable when moving thanks to public transport. As underlined by M.Rosa, who welcomes students since 2009: "Madrid welcomes everyone who comes from outside."
In addition to providing students with food and accommodation, our host families emphasize what they bring to them. Beyond an accommodation always well located, central, close to public transport, they help the students in everything they need, even beyond their obligations: long conversations afetr diner, walks, family life, "treating them as a member of the family "(Paloma S., which welcomes students since 2003).
We have also asked them about their best experiences and memories, and they have been many. They all emphasize how emotional the departures are, that they all go with regret and thankful for the shared days. G.L. (welcomes students since 2013) evokes "the beautiful letters sent to me by Payton's parents, another American girl, to thank me for the treatment of her daughter, in fact we are friends forever." Like this family, many families host agree on how beautiful it is to keep in touch with the students, receive visits many years later, when they let them know their commitments and subsequent weddings, and "at Christmas, receive a package with a precious little present year after year" (M.R.).
And what do the host families say about Your Family in Madrid services? Of course we were interested to know it too. Well, they are all very comfortable with the treatment we give them since we take great care of them. In G.C.'s words: "You are friendly, close and efficient." That's good, isn´t it?
Finally, we take the opportunity of this post to thank all our families for their work, commitment and love, that is priceless.
Now, what are you waiting for, dear readers, to come and meet them? We are waiting for you all in Madrid😊