Since we always want to give you interesting information about Madrid, we are publishing today our own selection of the best tapas and restaurants in Madrid  serving the best food of the capital, and at the best price.
We will be adding places as we will be discovering new restaurants and of course we are open to receive your suggestions to complete this post.

There we go, and it already makes my mouth water 🙂
"Casa de Comidas"
La Sanabresa, is a "casa de comidas", popular restaurant, serving a simple and complete menu,  very cheap (10 and 11 €), especially or only at noon. In fact, the menu consists of more than 10 appetizers, and more than 10 dishes, and the (more than good) surprise is the unbeatable freshness of the products, cooked and served by a staff that forms a real family. No reservation possible, and a speed of service that will amaze you. This restaurant is located on Calle Amor de Díos, very close to the metro Antón Martín. You will love it 🙂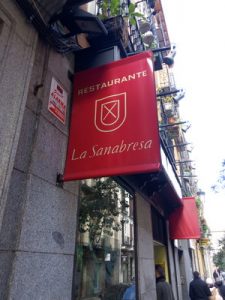 El Camarote, another traditional bar-restaurant, with a daily menu around € 12 and € 16 (without drinks) on weekends. Excellent address for Spanish cuisine, because the dishes are delicious, and the service attentive. I went there in December 2019, without consulting the opinions on the internet, and I did well 🙂 Opposite the Mercado de la Cebada, in La Latina, (Plaza de Puerta de Moros, 8) the place seems rather touristy, but the quality and freshness of the products is remarkable. Try it!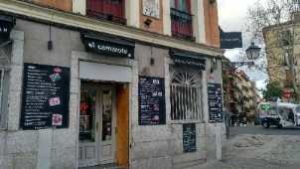 Tapas and restaurants in Madrid: Seafood
Now the season is over, as the best period of the year to is from october to April. And we are already missing it!
The best restaurant to enjoy delicious seafood and at the best price is definitely for us the Ribeira do Miño. Located on Calle Santa Brigida, on the corner with Calle Fuencarral, few steps from the Gran Via, this restaurant is famous, but mostly known and frequented by locals. The decoration is quite old, there is no terrace, and dining rooms are interiors. There is a lot of noise (despite of the signs "No singing " on the walls), but this Galician restaurant is the best place to enjoy shellfish dishes, accompanied by an Albariño wine, and finish with the typical Queimada (coffee with flamed marc).
Tapas
Of course, there are many places in Madrid to go for tapas, from a traditional to the most avant-garde style, but for us, one of the best is definitely the bar Entre Cáceres and Badajoz, located on Calle Mártires Concepcionistas, near Manuel Becerra Metro station.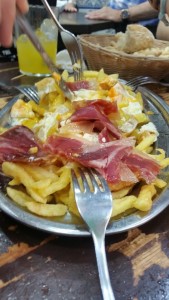 It is a small but pleasant place, and it gets crowded, and you are going to see why. Upon entering, you'll be amazed by the amount of food (vegetables, meats, breads, desserts …) exposed in the bar, and above it, like a store or a stall in a market place. The waiters are very friendly, and very attentive, and for every beer or soda or wine you ask, they will serve a huge and delicious tapas, of excellent quality. Of course, you can also ask for rations (full dish to be shared), and after eating, they will offer you a delicious lemon sorbet with cava. The first time we went, we got so much food, that we took part of it home for dinner !! This site is frequented mostly by locals and Spanish, and is still very traditional and therefore the quality of products is optimal.
Another tapas place we love, is El Urogallo. This restaurant and bar is located in Casa de Campo, near Lago metro station, in front of the artificial lake of the same name.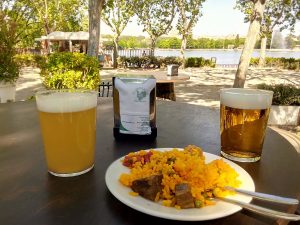 This place is the meeting point for cyclists on weekends, who come to take on fresh supplies after exercising. When you discover the quality and quantity of the tapas they serve for free, you will understand why there is so many people there!!. It is a pleasure to have some time enjoying the views of the lake and the skyline of Madrid from the shade of the trees. The restaurant is also very good, but a bit pricey for the extra service on the terrace.
Another "Tapas essential" in Madrid is Casa Labra Restaurant. This restaurant is a reference of "Tapeo" in Madrid since 1860. The restaurant´s specialty: cod. It is easy to find because of the queue in front of the building. Very close to Sol, on Tetuán Street, 12, next to the Corte Inglés, you can enjoy the best cod croquettes in the capital (0.95 € / piece) and a slice of Cod (a little more than € 1 / piece ) Always fresh. Enjoy!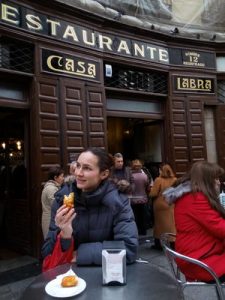 The Museo del Jamón: no, it's not a chain of bars and restaurants for tourists. Despite a name that suggests that these institutions are oriented towards foreign customers, you will discover that most of the customers are Spanish. Why? it's very simple: fresh, quality products at unbeatable prices. You can have a drink, order a sandwich, a ration or the menu of the day, and even go shopping, as you can buy hams and other Iberian cold cuts and excellent cheeses. Everywhere in Madrid, if you pass by, do not hesitate to enter 🙂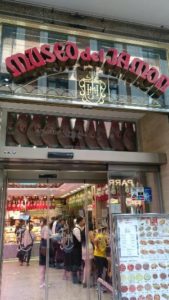 Exotic restaurants
Indian restaurant: a discovery out of the usual Indian restaurants of Lavapiés, the Indian Aroma, Calle Ventura de la Vega, near the Cortés, offers delicious dishes, varied, and very fresh. The service is impeccable, the restaurant perfectly clean and prices are very good. The pistachio and cardamom ice cream  is soooo good 🙂 You find a varied clientele, including Indians, which is very good sign.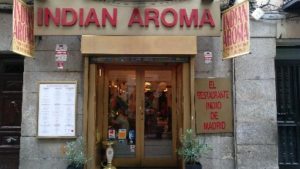 Starry gastronomy
Calle Serrano, 52, on the 7th floor, offers the David Muñoz "Low Cost" restaurant, StreetXo. This young chef known internationally already has its 3 Michelin stars, and proposes in this restaurant a cuisine very influenced by the Asian kitchen. You are set up around a red, black and metal industrial counter, in the heart of which the cooks are busy, dressed in a jacket resembling a straitjacket, to the sound of a very lively House music. Surprising cocktails are proposed. The dishes, to be shared, do not exceed 25 €, so it is the ideal place to taste a starry cuisine without breaking the bank. The restaurant opens at 1:30 pm, and it's best to get there at 1 pm to stand in line and be sure to get in!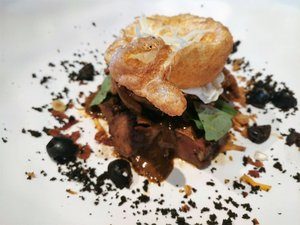 Tapas and restaurants in Madrid: Food from Andalusia
We have very recently discovered La Barca del Patio restaurant on the advice of a friend from Málaga, so its recommendation on Southern food was to follow absolutely!!.
Is a very nice restaurant with a kitchen visible from the dining room, and the boat that gives its name to the place is a large grill in which they prepare , among other things, sardines skewer. You can also enjoy music (flamenco music, of course) from time to time.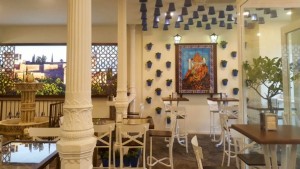 Gazpacho, grilled meats, rice, fried fish and homemade desserts … everything is definitely delicious. The service is very nice, and prices more than reasonable. This restaurant bar is also very famous for the vermouth, a traditional beverage to accompany the aperitif  at noon. If you want to discover the Andalusian cuisine, do not hesitate to try this place.
 Tapas and restaurants in Madrid: outside the center
In our neighborhood of Aluche (near Metro Campamento) is the Eiffel Restaurant, which occupies the 3rd places of Madrid restaurants on TripAdvisor! This restaurant has evolved and designed new delicious dishes, and at a very affordable price, and will surprise you (among the reference dishes, the Ferrero Rocher of cod). It is always striking to see foreign customers (American, Japanese, French…) in our neighborhood, and this is due to the great quality and excellent service of this family establishment. Booking is necessary. Bon Appetite!
Cantonese restaurant: The Royal Cantonés, Calle Olvido, 62, in the district of Usera (real Chinatown of Madrid). Nothing to do with traditional Chinese. An elaborate cuisine, impeccable service, and an average of 4.3 over 1500 reviews on Google, just that !!! Go ahead with your eyes closed 🙂
¡Que aproveche!