2020-2021 Students and COVID-19 : homestays as safest accommodation option in Madrid
It is spring in Madrid and it is already time for foreign students to look for accommodation for the next academic year. As every year, new students and their families contact us to choose the Spanish family who will welcome and accompany them throughout their first year of university.
"As every year"… not really, we agree. This year 2020 will remain in our memories. And we will all have to adapt to overcome this situation. The timetables for deconfinement and opening of the borders are not yet secure, but we must all already take the measures that will allow us to return to the new normality by guaranteeing our own safety and health as well as that of others.
in this context of uncertainty and lack of clear information about our near future, Your Family in Madrid adapts in order to guarantee that its host family accommodation service in Madrid is definitely the safest option for students.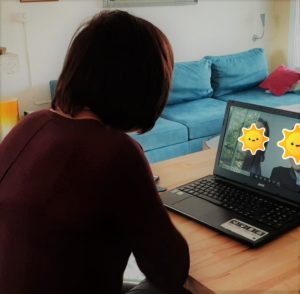 A tradition of hospitality and support
All of our carefully selected families are already following instructions regarding hosting young students: family meals, integration of the student into the daily activities, cleaning of clothes and bed / bath linen, support in the early stages of the stay if necessary, respect for the student´s dietary preferences and parental will, permanent communication with our services, etc. Likewise, our families meet common criterias for comfort, safety and hygiene already impeccable, but  we are going further now, adapting to the new circumstances.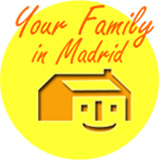 What will change?
From 2020-2021 next Universitary course, we are implementing a Preventive Measures Protocol to guarantee the health security of our customers and our families. The development of this protocol is still in progress (it will be completed in August) since it will have to adapt to the evolution of the epidemic. But here are the main measures that will make us participate all together in the control and reduction of the expansion of COVID-19.
Protocol for families:
– Application of all the measures recommended by the Ministry of Health and the Community of Madrid (also valid for students), among others the cleaning and disinfection of objects and surfaces that are touched frequently in the house (door handle , table, chairs, switches, toilets, taps …) and obviously on a personal level (repeated hand washing, respect the safety distance and use of a mask recommended outside in crowded areas, do not lend personal objects to students …)
– Disinfection of shoes and outer clothing (coat, pants, belt) with a spray (alcohol + water formula) each time the student comes home (the spray will always be handy at the entrance of the accommodation)
– Beginning of the stay (or each time the student returns from the trip (train, bus, plane): washing all the clothes he / she wore during the trip + disinfection of shoes and suitcases, bags.
– The towels will be used exclusively individually (no hand towel for collective use for example)
– Each family will display a poster (explanatory and understandable document)  containing the recommendations in terms of prevention from the Spanish authorities. (example below).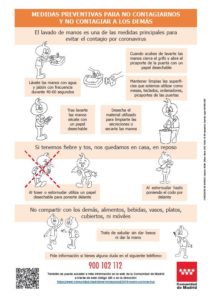 Protocol for customers of Your Family in Madrid
– During the trip, before arriving at the family, the use of a mask will be recommended, as well as a hand washing (or hydroalcoholic gel) repeated and frequent throughout the trip.
– Disinfection of shoes, suitcases and outer clothing, hand washing when arriving at the family.
– Repeated disinfection of personal objects (laptop, phone,  keys…)
– Systematically put in the trash all kleenex, wipes (reminder: wipes should not be thrown in the toilet) or personal disposable accessories after use.
– If there are several students in the family, do not lend or exchange personal items (also outside the house: drink bottles, school equipment, laptop, phone for example)
– In the case of group activities with other students – for school groups – (visits, excursions), the use of a mask will be obligatory at first, and always recommanded  thereafter.
In accordance with the data protection regulations, neither the family nor the clients will be obliged to provide a medical certificate attesting to their good health, however a declaration of honor will be requested from each party in order to reassure each other, within the two weeks prior arrival.
Families and students will of course be attentive to the appearance of any symptom, and it is then the Protocol of the Ministry of Health that will come into play, which we will explain to you according to the updates that will be in place at that time.
The complete protocol will be available on our website, in the Terms and Conditions section.
—
"An action is little, a habit is a lot" will be the new maxim of Your Family in Madrid. We are optimistic and confident: we will do everything and all together with our families and our customers to limit this health crisis, without giving up our plans, our future, and this magnificent experience that always remains a stay in a host family in Madrid.