We all know that the best way to learn a language is the language immersion in homestay in a foreign country. We live in a globalized world, and learning languages is essential today: to speak foreign languages is the best way to enter into the working world.
The younger ones are the most capable to learn foreign languages, and they are able to assimilate innovations and cultural changes, much more than adults. Therefore, travel and immersion trips are so important in the development of children and adolescents.
Summer is great opportunity to live an intense language experience, and this is what we propose today.
Immersion with host family in Ireland in July:
Aprende Inglés en Irlanda is one of our partner companies, and was born with the aim of providing young students, from 9 to 16 years old, the opportunity to learn English, immersed in an Irish family for a period fron 2 weeks to one month.
At the same time the young student is enjoying summer holidays, he will improve is English communication skills, far away from school, with a new and real motivation.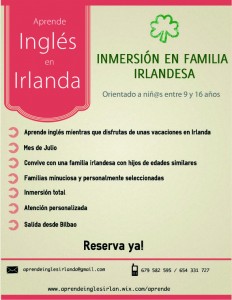 Program coordinators, , Norah Ezcurra and Bébhinn Coady, met in this same context more than 15 years ago.
To carry out this project, they have chosen the peaceful County of Donegal, a beautiful rural setting located northwest of Ireland where, encouraged by the friendliness of its people, the young student can become familiar with the customs of the area, while developing language skills .
Bébhinn Coady lives close to the host families accommodations and she is personally responsible for selecting families. Bébhinn is a mother, and she organizes artistic and cultural activities for kids. She is very involved in her community and civic centers in the area. She is responsible for assigning families with children of similar age, tastes and interests. The aim of this program is to achieve a quick and pleasant environment adaptation, which motivates communication in English.
No more than one student will stay in the same house and families will find themselves sufficiently separated from one another, in order to prevent young students to contact other people from the same country.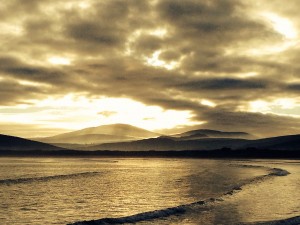 Norah and Andoni will travel from Spain with the students accompanying them at all times, until the presentation with their host families. From day one, they are in contact with the students to guaranty their well being and provide them security. To do so, unlike other programs, they will stayi in the area, being fully available and will visit the students on a weekly basis.
The flight departs from Santander or Bilbao (to be determined).
For more information, contact:
Norah Ezcurra Castro
aprendeinglesirlanda@gmail.com
Tel. 679 582 595
Andoni Angulo Nogales
aprendeinglesirlanda@gmail.com
Tel. 654 331 727
Immersion in host family in Madrid:
Your Family in Madrid proposes language immersion trips in host family for Young students, in families with children of the same age, who are in charge of the young from the moment of arrival until the end of the stay, with the possibility of private clases at home in order to optimize his Spanish language skills.
The minimum stay is one week.
This program allows younger students to live an unforgettable experience, in the best homestays, like one more child of the family. Host families who work in this type of stay are specially selected according to their composition (all have one or more children of the same age as the young), availability (the young will be always accompanied by a family member at any time) and of course their affection and kindness. This stay will undoubtedly be the beginning of a great friendship between the Young student and host family.
The young will be in contact with his host family from the booking confirmation, and will be able to communicate with her by letters or emails before arrival.
The stay can be completed by a private Spanish lessons at home, with a certified and experienced teacher to optimize language immersion young and take real advantage of the stay in Madrid.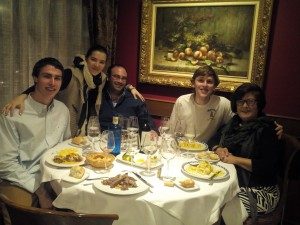 Included services:
– Transfer from the airport and to the airport by the family (Monday to Friday, from 8PM, and between 8AM and 10PM on weekends)
– There won´t be another student who speaks the same language in the family.
– Single room. Private bathroom surcharge.
– Full board (breakfast, lunch and dinner with family)
– Participation in all daily activities of the family.
– Cultural activities and visits (Prado Museum, Royal Palace, Gran Vía, Plaza Mayor, Rastro market)
– Participation in activities of the children of the host family (costs not included)
– Internet access
– The student has the key of the housing
-Laundry: once per week
For more information, contact our services: info@yourfamilyinmadrd.com
See you soon!!!