Madrid, like all Spanish cities, when Spring and Summer are coming, prepares its traditional celebrations. Like in most of oter cities in the country, these celebrations are religious and celebrate a saint or a Madonna, symbol of a city or village.
More than a holiday, these celebrations take place over a whole week of events, concerts ( "Verbenas" which are popular concerts, with music of all kinds, or concerts of known groups) and music in the street until late at night.
Madrid has many bank holidays, but the most important if they are associated with the duration of the celebrations are San Isidro and Paloma feast.
Spring: San Isidro feast
The San Isidro Labrador feast celebrates the patron of the city. San Isidro who lived in the 11th century, and had the gift of finding water . A chapel (hermitage) was built to honor him in the 16th century, the outside of the city, in the Pradera de San Isidro, represented by Goya. The feast takes place there, every year, around May 15th.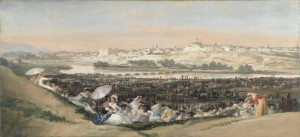 The park where celebrates the feast ("La Pradera") is invaded by a crowd dressed in a traditionnal way (chulapos and chulapas dancing to schottisch rhythms "chotis") but also heterogeneous, because the feast attracts all nearby residents and national and international tourists who come to picnic and spend the day and much of the night there.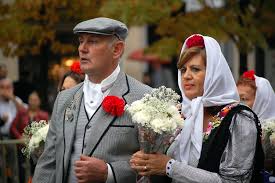 There are free concerts, parades, throughout the center of Madrid, not just in the Pradera. This is the momento to taste the typical cakes of San Isidro : as Rosquillas, tontas ( "silly" without sugar), o listas ( "inteligent" glazed with sugar).
The feast of San Isidro also corresponds to the start of the bullfighting season, where the best bullfighters face the best bulls in the heart of the Plaza de las Ventas, the oldest in Spain.
Summer: Paloma feast
The Paloma Feast (the Virgin of the Dove) is a very intense celebration, because it is the feast of the patron virgin of La Latina, in central Madrid. It is celebrated around August 15 (Feast of the Virgin common to all Catholic countries).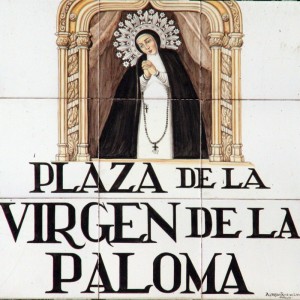 A procession opens and closes this feast that lasts a week and is located between the Plaza de la Cebada and Vistillas. At a time of the year when the temperature is very hot, and that the greater part of Madrid people is on the beaches of the Mediterranean sea, the La Latina district is the center of attraction of the capital.
Concerts, food, drinks, parades, balls with chulapos with chulapas, whole neighborhood of La Latina is celebrating. Bars put their counters on the street, and the music transforms the streets in nightclubs, where people are drinking the Limonada (Sangría made with white wine) and dancing until 3am.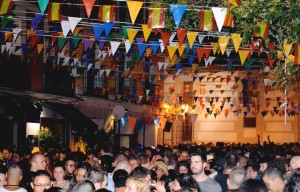 Just to make your mouth water, here is the feast program of La Paloma, 2015 (at the time I write this post, the 2016 program has not been published yet).
Enjoy the Feasts and see you soon in Madrid!!