Christmas in Madrid  is almost here and today we are going to provide you with a lot of information about what the capital offers on these dates so that you do not miss anything, and that you may want to celebrate Christmas in Madrid with us.
Christmas in Madrid: Christmas lights
The most striking (and expected) of these days is the night when Christmas lights are lit throughout the city. Madrid, as a capital, wears a thousand multicolored lights, each year more spectacular (as well as ecological) in its streets (up to 90 illuminated streets!), squares and main monuments. Each year they light up at the end of November (around 25th). It is then very traditional to take a walk or drive through the center of Madrid to see the lights. You should better avoid the first weekend: many locals tend to have the same idea at the same time, and that usually leads to a lot of traffic in the center.
That's why there is Navibus is the best way to enjoy Christmas lights: for only € 2, this two-floor bus runs through the main streets (from Barrio de Salamanca to Sol, passing through Puerta de Alcalá, Gran Vía …). The only stop of the itinerary is in Plaza de Colón (in front of number 30 of Serrano Street), and it works from 18h to 23h. Again, it's better to choose a weekday to avoid the crowd during the weekend.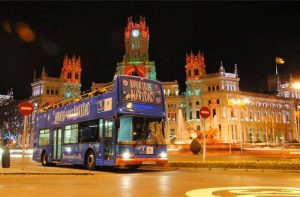 Christmas markets
Another activity of interest of Christmas in Madrid, is the Christmas market in the Plaza Mayor. This very traditional market is the place to buy new figurines and natural or synthetic decorations (bark, moss, fir) , for traditional nativity scenes, lights and also costumes, wigs of all colors and joke articles : Madrilenians, and Spaniards in general, usually disguise themselves during the end-of-year family celebrations as they usually celebrate with "innocent" jokes on the day of the Holy Innocents (December 28th).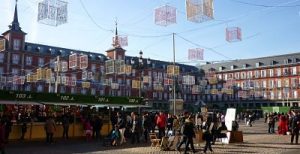 Christmas in Madrid: Cortylandia
Another very typical point of interest of Christmas in Madrid is the attraction of Cortylandia. The facade of the Corte Inglés store in Calle Maestro Victoria Street (between Opera and Sol) is transformed every year (since 1979) with automatons moving to the rhythm of the most traditional carols, for the greatest joy of children. It can be seen every day, and each "function" takes about 15 minutes.
Nativity scenes
Throughout the city you can discover hundreds of "Belenes" (Nativity scenes): in Plaza Mayor you will discover the biggest one, but there are many more, in churches, museums and institutional buildings. It would be very difficult to give you an exhaustive list, so the best is to discover them throughout your Christmas walks around the city.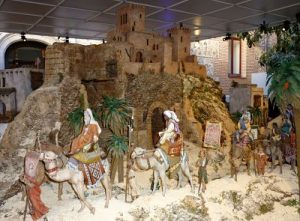 Lottery
El Gordo de Navidad by Doña Manolita
Doña Manolita is an institution in Madrid (and in Spain). It is the most famous lottery and one of the oldest in Spain (founded in 1904). It is located in Calle del Carmen, 22. You will find it very easily: at Christmas, the queues that form there are really impressive and here is the explanation: this lottery is the one that awards most prizes in Spain, especially for Christmas draw . This day, on December 22nd, Spain is holding its breath, and everywhere the same litany is heard on radios and televisions, repeated by children's voices until the winning numbers are over. The coupons are quite expensive: they are bought by tenths (one tenth of a number), and each tenth costs € 20. But the first prize is 4 million Euros: it sounds good, don´t you think?
The traditional ad for the Christmas draw
Christmas draw is advertised on television, of course, and every year this ad generates a lot of expectation, for its content, approach, realization, actors … It turns out to be a topic of conversation in bars and social networks among the Spaniards at this time of the year. Here is the new one for Christmas 2016:
Christmas candies and pastry
As in many other Christian countries, Christmas is a period of much eating. And Spain has nothing to envy. Turrones (nougat), polvorones and mantecados (put them in your mouth and say "Pamplona" it is a challenge ), marzipan (almond powder and sugar), roscones (the traditional dessert of Epiphany, in form of a crown), … Christmas will do raise your blood sugar level, that sure. All these candies and prastry can be bought in all supermarkets and bakeries, and there are endless flavors and ingredients. Take advantage: all these products are seasonal, and you will not find them so fresh and delicious at other times of the year. Enjoy!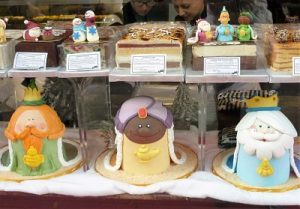 Christmas carols
It is the soundtrack of Christmas in Madrid and in the rest of Spain. The traditional Christmas songs, the "villancicos", resonate throughout the capital. Numerous concerts of choirs are organized in churches and institutional buildings. You can attend two concerts of classical music on December 18th, by the Municipal Symphonic Band of Madrid at the Teatro Monumental. This stage will also host the Symphonic Orchestra and Choir of Spanish Radiotelevision from December 6th to 14th.
Christmas in Madrid: New Years Eve
Eating the grapes in Puerta del Sol to the beat of the 12 bells is a tradition. Every year, thousands of people gather there to celebrate the New Year. If you are looking for a lot of atmosphere, and many people, that will be your place. But most of the people of Madrid (and of the Spaniards) celebrate New Year's Eve at home (until they finish dinner, around 2AM, and then the party goes on outside), with the Family, sharing a very delicious and copious dinner, watching  television. The TV program of the "campanadas" (12 bells) is really famous and Spaniards won´t miss it, as it already have made history.
Something important: swallowing the twelve grapes is important to have health and prosperity throughout the New Year in Spain, but there is another trick to attract luck: wear red underwear. So you already know what to add to your Christmas shopping basket.
The Three Wise Men Parade
The "Cabalgata de Reyes Magos" is the climax of Christmas in Madrid. Each year, the Christmas celebration ends on January 5th, with the Three Wise Men Cavalcade. The cavalcade is a very expected event, very mediatized, and attended by thousands of people, mostly parents with children, which are distributed along the route (which is usually from Nuevos Ministerios to Cibeles), to see the Three Wise Men, and to collect a maximum of sweets thrown by the participants. There are usually a lot of people, and of course, it's usually cold. So, one option is to watch it at home, on TV (3 hours of retransmission, nothing less). Because beyond this main cavalcade, each neighborhood usually has its own, more humble of course, but also very fun for the little ones.
Even if it's still a couple of weeks away, we wish you Merry Christmas, and an excellent New Year 2017!