Today we invite you to discover the best markets in Madrid. Who does not like to go through the stands of a market, seduced by the colors, freshness and variety of products? Most of the city's covered markets have been refurbished in recent years, responding to a growing demand for authenticity, and the pursuit of quality products.
Many of these markets have become "delicatessen" shop windows, almost restaurants where you can try excellent products, but rather expensive, so we will present you these places (already well known in their majority) as well as others, less known,  who have known how to keep the essence of the "whole life" market, with high quality and very affordable prices.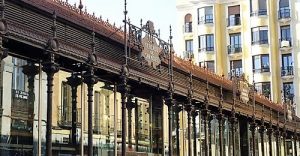 Markets in Madrid; the "New Wave"
We will start with the most famous and new tourist markets in the capital.
The San Miguel market: this market built at the beginning of the 20th century, is very recognizable with its "Eiffel" style. Iis the most famous and touristic market in the center of Madrid, as it is just behind the Plaza Mayor . This market was restored and re-opened in 2009 as a gastronomic market. More than a market, today is a place of tapas, which brings together the gastronomy of many areas of Spain, and of the world, and of very good quality. Prices are not the cheapest, and the place is usually very crowded.
The market of San Anton: initially built in 1945, it was destroyed to rebuild the market as it is now, re-opened in 2011. This 3-storey market, with traditional stalls on the ground floor, offers, like San Miguel, restaurants and bars to enjoy tapas or dine on the terrace overlooking the rooftops of Chueca. Again, it is no longer a traditional market, but rather a small gastronomic complex, but it is a very pleasant place and it is usually less crowded than the San Miguel market.
The market of San Ildefonso: it was the first covered market in Madrid (1835) and it was functioning like a proper market until 1970. Today it has become a gastronomic tapas place exclusively.
Other "markets" of this type have flourished in the capital in recent years (Mercado de Moncloa, Platea Madrid in the neighborhood of Salamanca, Mercado de la Ribera near Puerta de Toledo), and they are all a good option to replace traditional bars, but they are no market anymore.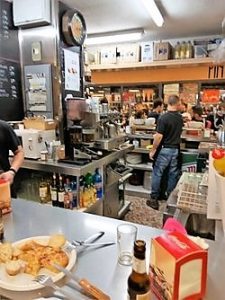 Markets in Madrid: traditional markets
To those who prefer, like us, the traditional municipal markets, we recommend the following places (usually closed on Sunday):
Chamartín Market: one street from Colombia metro station, north of the capital, this is a gourmet market, so prices are quite expensive, but it is a real market which, by the way, was expensive from the beginning. Opened in 1962, it has been renovated during the last 10 years.
The Casa de Campo Market: This outdoor market of regional products opens its doors on the first Saturday of each month. Very close to Lago metro station, you can find there all kinds of products, mostly organic, from the entire Community of Madrid, and sold by the producers themselves. I absolutely recommend it.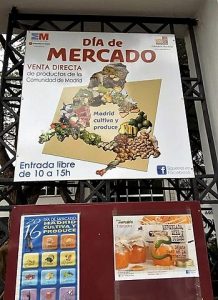 The Mercado de la Cebada: although recently renovated (2009), the Cebada market in the neighborhood of La Latina opened in 1868, and was one of the bigger markets of supplies of the capital. Today it is still a real market, with 91 different businesses inside and outside. You can find everything, both food and perfumery, optics, florist, upholstery … It also has a few bars, so it is a good choice of traditional tapas plus purchase. It is closed on Sundays except the first Sunday of each month.
Anton Martin Market: This market built in the 40s near Atocha, on the site occupied by the outdoor market since the 1760s, is still  a traditional and popular market. There are many takeaways, and cultural events are often held. Do not miss it!
Vallehermoso Market: in the heart of Chamberí, since 1930. Easy to recognize with its typical architecture of traditional markets you will love. Good quality, lots of diversity, affordable prices, and also tapas and cultural activities.
The San Fernando Market: near Embajadores, this market is the most authentic and popular. Of course, you can go to this market to buy every day, but when the closing time of the posts of supplies arrives, those are transformed into stalls where you can buy food and drinks (although there is very little space in order to sit and eat comfortably), traditional bars, or good wines bars. Good atmosphere guaranteed.  This market opened in 1944.
Of course, this list is not exhaustive: there are many other municipal markets to discover in the capital. Here is the complete list of the markets in Madrid.
Enjoy!!!