The music festivals season has already started. Madrid, capital of all music, one more year, and even more than last year, with new editions 😊 In our Facebook, we announced this week the first of the long list of music festivals, the Tomavistas that began last Friday and ended Sunday 21/05. We give you today the dates of all the festivals that Madrid and surroundings will offer from now until October. You will get tired of dancing!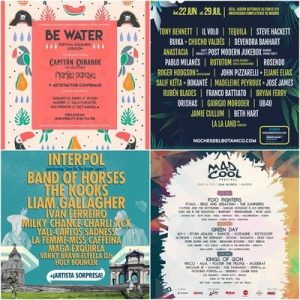 Music festivals in Spring
May
Get Mad Festival: May 26th and 27th, in several concert halls. Do you feel like listening some music?
June
Sound Isidro: this festival began with the fiestas of San Isidro, but continues until 8/06, in different concert halls.
Utopia: electronic music festival, on 3rd and 4th of June, at the Complutense Campus. Here we leave the promotional ad, very cool 😊:
Ballantine's True Music Festival: June 9-10. This festival offers a multitude of performances in more than 100 concert halls throughout the capital. Urban, indie and electronic music.
Leganés Blues Festival, on 9 and 10/06.
A festival of solidarity: the Be Water festival: your entry will serve the construction of a cistern in Morocco and a well with pump water in Tanzania. Solidary and cheap😊
Black is Back Weekend, June 17 and 18, Soul, Funk, Blues, in Conde Duque.
Mad Music City: from 21 to 25/06, in Matadero, festival Indies
Festival Cultura Inquieta, in Getafe, from 06/22 to 08/07, a festival with a capital F, in the Sports Center of San Isidro, and the Mercado de Abastos.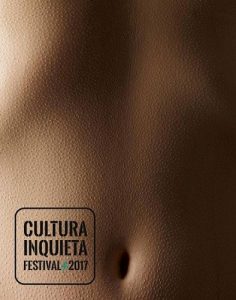 Download Festival: a first edition, festival dedicated to Rock and Heavy Metal in Madrid, Caja Magica, from 22 to 24 June.
This same weekend, in Arganda del Rey, another 100% electronic music festival: A Summer Story, 23-24 / 06
Music festivals in Summer
July
Mulafest Festival, from 06/30 to 02/07. Festival of urban trends, tatoo, garage .. Sixth edition of this festival, in the fairground IFEMA.
Nights of the Botanic, from June 22 to July 29. A month of concerts in the Royal Botanic Garden Alfonso XIII, in Ciudad Universitaria.
Mad Cool Festival, from 6 to 8/07, in the Magic Box. Second edition of this mega festival.
First edition of the Río Babel festival, in Ifema. Eclectic festival, with good programming, from 13 to 15/07
July and August
It is not a festival, but another year, Madrid will give you a lot of concerts and shows, mostly free, in the entire capital: Los Veranos de la Villa. Programming is not available yet.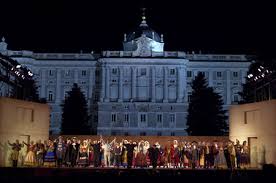 Music festivals in Autumn
September
The summer is gone, but the music goes on: the DCode Festival, in the Complutense. It is the oldest festival in Madrid, 9/09.
October
Sixth edition of a festival with wine and music: the Enofestival, 7/10, at the Goya Theater, Puerta del Ángel.
A festival of neighborhood, in Malasaña, around Conde Duque: Villamanuela: music, gastronomy, art, on 6 and 7/10
Madrid Live, the 28/10 at the Palacio de Deporte. Third edition, with a billboard still unknown, but certainly impressive😊
Enjoy and dance!